Take a look at the Virgin Group founder's career.

6 min read

This story originally appeared on GOBankingRates

Virgin Group founder Richard Branson isn't your average billionaire. Instead of living in a big city penthouse or a sprawling estate, the fun-loving tycoon makes his home in the British Virgin Islands. He prefers jeans and board shorts over suits and, despite his status as Sir Richard Branson, he'd rather be called Richard.
Related: Elon Musk's Essential Tips for Aspiring Entrepreneurs
Fascinating to say the least, the self-made billionaire behind Virgin Airlines has a sunny disposition that draws others toward him.
Take a look at Branson's spectacular business success and fortune.
(By Gabrielle Olya)
Richard Branson net worth: $5.1B
Image credit:
Gustavo Caballero / Getty Images
Seemingly born to be an entrepreneur, Richard Branson started his first business, a student magazine, when he was just 15 years old. In 1970, he opened his first business under the Virgin Group umbrella, and the rest is history.
Though perhaps best known for its airlines, the Virgin Group consists of more than 60 companies today. Combined, they employ 71,000 people in 35 countries and bring in an annual revenue of $22.3 billion (16.6 billion pounds).
Richard Branson's Virgin Records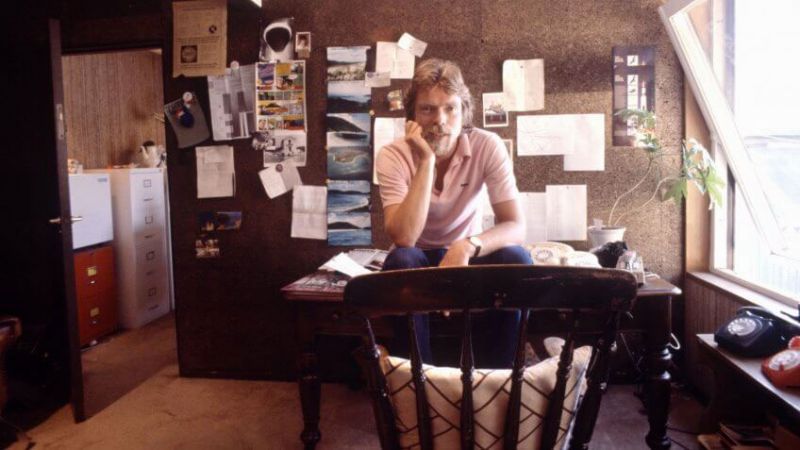 Image credit:
©Graham Harrison/REX/Shutterstock
Virgin began as a mail-order record retailer in 1970 and became Virgin Records when Branson opened the first brick-and-mortar record store in London. He later opened a recording studio under the Virgin Records label and was able to sign major acts like the Sex Pistols and the Rolling Stones, propelling it to become the biggest independent record label in the world.
Unlike many moguls, Branson truly cares about his companies. He sold Virgin Records for $1 billion in 1992, but instead of celebrating, he famously ran down London's Ladbroke Grove in tears, distraught over cutting ties with the business.
Richard Branson's Virgin Unite
Image credit:
©Jon Hrusa/EPA/REX/Shutterstock
These days, the father of two dedicates most of his time to Virgin Unite, the Virgin Group's nonprofit entrepreneurial foundation. Established in 2004, the charity supports ventures close to Branson's heart, including advocating for gay rights and speaking out against wildlife poaching.
Related: 15 Weekend Jobs and Side Gigs to Boost Your Income
Virgin Unite's projects are changing the world for the better. Some of the foundation's work includes providing life-saving healthcare to people in Kenya; creating the Branson Centre of Entrepreneurship, which has helped over 4,000 entrepreneurs in South Africa get their businesses off the ground; and fighting for LGBT rights in Uganda.
Richard Branson's Virgin Airlines
Image credit:
NextNewMedia / Shutterstock.com
A canceled flight from Puerto Rico to the British Virgin Islands served as Branson's inspiration for Virgin Atlantic. Then a young businessman, he had a date waiting for him, so he chartered a plane and charged other passengers $39 for a one-way ticket.
Founded in 1984, Virgin Atlantic is an innovative airline with a 2016 pre-tax profit of about 23 million pounds. The Virgin brand also includes Virgin Australia and, previously, Virgin America, which has since been sold and merged with Alaska Airlines.
Alaska Airlines bought Virgin America in 2016 for $4 billion. Despite earning millions from the sale, Branson opposed it and publicly expressed disappointment that he didn't have enough voting shares in the company to halt the takeover.
Richard Branson's Virgin Galactic
Image credit:
Ronrosano / Wikimedia Commons
Known for his innate curiosity and sense of adventure, it's probably not too surprising that space travel is on Branson's agenda. Founded by the billionaire entrepreneur in 2004, Virgin Galactic wants to make space travel accessible to everyone.
The privately funded company received $600 million from Branson, the Virgin Group and Abu Dhabi's Aabar Investments PJS as of 2014, the Financial Times reported, and in 2017, the company announced that it had received an additional $1 billion investment from the kingdom of Saudi Arabia. So far, approximately 700 people have paid a full-price deposit of $250,000 to become a Virgin Galactic future astronaut.
Sending humans into space has been a challenging process — a pilot died during a test flight of the company's SpaceShipTwo in October 2014 — but Branson believes his company is finally almost ready to launch. Branson hopes to be among the first passengers, with a launch by May 2019, Fortune reported.
Richard Branson's Island
Image credit:
cdwheatley / iStock.com
Located in the Caribbean, Richard Branson's island doubles as his home and a posh resort. He purchased Necker Island in 1978 for a modest $180,000, according to Forbes.
If you want to visit his British Virgin Islands paradise, be ready to pay up. The cost to book the entire island — which accommodates up to 34 people — was $80,000 per night in 2017. Individual rooms can be booked from October through November in 2018, which start at $31,675 per couple for a seven-night stay.
In early 2017, former President Barack Obama and his wife Michelle Obama vacationed on Necker Island as Branson's personal guests. Photos revealed a playful friendship between the former U.S. president and billionaire, which included kitesurfing.
Necker Island was heavily damaged by Hurricane Irma in September 2017. It is scheduled to reopen in October 2018.
Richard Branson's Virgin Hotels
Image credit:
©Charles Sykes/Invision/AP/REX/Shutterstock
Branson opened the first Virgin Hotel in Chicago in 2015, and a second location will be opening in San Francisco in summer 2018, with future hotels planned for Dallas, Nashville, New Orleans, New York City, Las Vegas, Silicon Valley, Palm Springs and Washington, D.C., Travel + Leisure reported. The brand will also be opening its first European location in Edinburgh, Scotland, in 2020.
Related: 13 Million-Dollar Businesses That Turned Down 'Shark Tank' Deals
As with his airline, Branson built his hotel model on the idea that people shouldn't be nickel-and-dimed during their travel experiences. His hotels offer free WiFi, free late checkout, minibar prices set at "street level" and no fee for room-service delivery.
Richard Branson's Virgin Hyperloop One
Image credit:
©Kamran Jebreili/AP/REX/Shutterstock
If Branson's plans pan out, time-sensitive goods will be able to travel at speeds of 620 mph in technologically advanced transport pods to ensure a timely delivery. The entrepreneur is now the non-executive chairman of Virgin Hyperloop One, which plans to harness Elon Musk's proposed hyperloop technology — using rails within low-pressure tubes — to transport freight at ultrahigh speeds at costs similar to trucking, the Daily Express reported.
Branson foresees the technology being used to transport fresh food, medical supplies and goods for delivery at speeds that were previously impossible. He hopes to launch Virgin Hyperloop One by 2021.
Richard Branson's Virgin Voyages
Image credit:
©Virgin Voyages
Branson already has plans to tackle land, air and space travel, so it makes sense that sea travel would be his next undertaking. In May 2018, Branson announced his plans for Virgin Voyages, an adults-only luxury cruise line that will launch in 2020 with inaugural seven-day cruises traveling from Miami to the Caribbean.
"At the core of our epic sea change for all is ensuring that the spaces on our ships are well-styled, distinct and reflective of the dynamic experience we want to bring to our sailors," Tom McAlpin, president and CEO of Virgin Voyages, told Forbes. "Our design partners together with our internal design team have dreamed up eye-catching, intimate and alluring spaces that we can't wait to see come to life."