Don't miss the fourth point. It's also the key to a happy life.

7 min read
This article is excerpted from Entrepreneur magazine editor in chief Jason Feifer's monthly newsletter, The Feifer Five. Each month, he sends out five insights to help you think more entrepreneurially. Subscribe here.
It's going to happen: Along your entrepreneurial journey, you will be frustrated. Derailed. Feel lost in the woods. But that's normal. Good, even! Enduring these challenges will prepare you for the even great ones ahead, and will open your eyes to the many inspirations around you that you hadn't previously considered.
That's what this list is all about: The inspiration that can come from anywhere. We're going to Maine for lobsters, Oregon for ice cream and more. Let's go.
---
1. What Danica Patrick can teach you about change.
Image credit: Nigel Parry
Recently, I met an entrepreneur who'd built his own golden handcuffs. His ecommerce business does more than $1 million in sales every year, and makes him a handsome return. But he's unhappy. The site is boring to operate. He wants to do something else. And yet, he doesn't. Why? Because he's unsure if he can be successful at anything else. What if, he fears, this is it? What if this is all he's good at?
This is the downside of success, and I see it a lot. Once we've reached some level of achievement, many of us lose our appetite for risk. We groan at the idea of starting fresh, or of pushing beyond. We become trapped maintaining what we have, rather than building bigger, or better, or simply anew. And for everyone who's ever faced this, I offer you our new cover profile of Danica Patrick. She just retired from racing, and we sent a reporter to Indianapolis to follow her during her final days. She admitted to us that, for quite a while, she'd stopped loving the sport of racing. But rather than fear those final days, she prepared for them — by methodically building new businesses, finding new interests and assembling the bridge she'd one day cross.
I love that approach. Let us celebrate success but not be trapped by it. Let us use our success as fuel, propelling us wherever we want to go. We entrepreneurs are doers and achievers. Nothing should hold us back — not even our good fortune.
---
2. What ice cream can teach you about failure.
My high school friend Chad runs a great ice cream shop in Portland called Fifty Licks, and has learned a lot from the ups and downs of the sweets biz. I really loved this video profile of him, and especially his insight on risk:
"You have to be able to accept risk. You have to be able to live with not knowing how things are going to unfold and what's going to happen next, and be OK with that. I think that the best way to overcome fear is to have what you're afraid of happen. I think to have calamity, to have disaster, to have failure — I think failure teaches you a lot. It teaches you that you have the strength to endure the worst that can happen."
Exactly.
---
3. What "lobesters" can teach you about thinking creatively.
Image credit: Jason Feifer
Wait, you might say — does this Maine farmstand realize they misspelled lobster? I talked to the staff and the answer is: Yes, of course. It was originally a mistake, but they kept it because it was funny and memorable. They even sell T-shirts saying "Home of the lobester."
I love this. In the land of lobster, how do you stand out? By selling lobester!
Every entrepreneur and business needs to think about what makes them memorable. What sticks in people's minds? The answer might come from unexpected places. And if you're willing to think creatively and embrace surprises, you'll have something nobody else does.
---
4. What MailChimp can teach you about the people you don't need to email.
Image credit: Courtesy of MailChimp
MailChimp, the service I use to send this newsletter, went through some serious growing pains. Its founder and CEO, Ben Chestnut (pictured above), was struggling to lead his suddenly booming company, and he had to undergo some major transformations in order to right the ship. I recently spoke with him for my podcast Problem Solvers (listen: iTunes, web), and he was full of great leadership advice.
But here, I want to pull out a particularly important, very personal thing he told me during the interview: He was once so stressed at work that it was harming his marriage. And he realized that a big part of the solution to his work troubles actually started at home.
Here, straight from our interview, is Ben:
"One of the things that I stumbled upon, and I'm so lucky that I did, I wish I could remember the name of this book, but the author said, 'Talk to your spouse about everything.' Because we have this habit of leaving work at the office. You come home and you turn that off and then when you come to work you kind of leave your personal stuff at home. And he says, 'This is just ridiculous. A human being should be able to talk about all of it.'
"When I started to talk to my wife about everything — every bit of stress, anything that humiliated me — it finally got better. She had some great business advice for me. And she actually started to come to work sometimes, to some holiday parties, and she knew people by name because I would talk about them. She would thank them. Just having her as an ally was tremendously helpful for me getting through this.
"I don't think that I hear that advice very much. Talk to your partner. I'd just kept it to myself. There was a while where my wife told me that she she didn't know what was going on. She thought that I hated her. My behavior was just so weird. I was just so stressed all the time. And then she came up to me and said, 'If it will make it easier, I can move out for a little while and take the kids.' And then I thought, This is really bad. I didn't know that I was this bad. And so I started to open up and talk to her about it, and then everything just changed. I think it probably would have been another two years [of struggles at work] if I hadn't just started opening up and talking about this. So, partner, therapist, anybody — just talk."
---
5. What a cat toy can teach you about perseverance.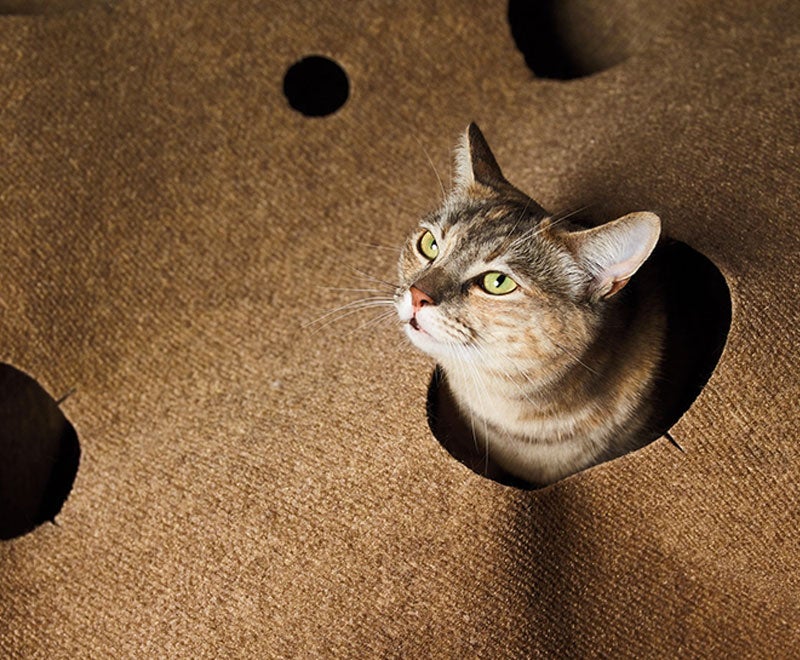 Image credit: David Yellen
We all have our mountains to climb. We all wonder if we have enough energy to reach the finish, far off in the unseen distance. And so, for inspiration, I offer you this amazing tale.
Fred and Natasha Ruckel had invented a hit cat toy, but sales dropped when someone began counterfeiting it. Instead of giving up, the couple began doggedly pursuing the counterfeiter — hacking through layers of obfuscation until they finally found their culprit, sued them, got a load of documents that revealed how the counterfeit worked and then gave all those documents to us at Entrepreneur. The resulting story is one of my favorites ever: It reveals exactly how a counterfeit operation works, and how this couple stayed so focused. Worth your time, for sure.
---
That's it for this edition of The Feifer Five! I'll leave you with this parting thought: You do not have to take this journey alone. Turn to other people — to mentors! — to help you along the way. If you're in need of a mentor, please read this. It'll help you think differently about who your mentors can and should be.
Enjoy this newsletter? Don't forget to subscribe!