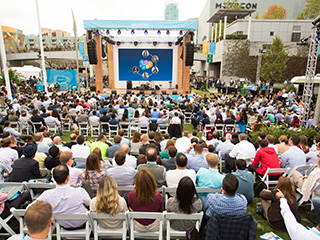 Dreamforce is the largest gathering of Customer Trailblazers but it's also for music lovers. We're pumped to bring back the music festival-experience back to the Dreampark! We're talking live bands, rocking out in the sunshine of a San Francisco Indian Summer day!
The Dreampark
In the middle of the campus, on Howard Street, is one of the most magical places at Dreamforce — the Dreampark! We're hosting non-stop fun on the Dreampark all week long, including awesome bands, live karaoke, airstreams, opportunities to volunteer, and games.
After the huge success of the past three years of the Dreamforce Music Festival, we are continuing to provide awesome musical entertainment during the conference. The Dreampark on Howard Street will have outstanding live music on two separate stages — The 4th Street Accenture Stage and the 3rd Street Dreamforce Stage. We are so excited to announce the addition of amazing artists and bands to the Dreamforce 2016 lineup.
Dreampark Music Festival Schedule
Tuesday, October 4
11:00 a.m. – 12:00 p.m. Alison Branch
12:00 p.m. – 1:00 p.m. LT Smooth
Born and raised in Aotearoa, New Zealand,  LT Smooth spent many years of his life doing drugs and alcohol, and running from the law and the people that loved him most. He has been  eighteen years sober now, and would not change a thing. His music has changed his life, his lyrics a journey through the struggles he has conquered. He uses his music  to help, encourage, heal, and to mend what we go through in life.

1:00 p.m. – 2:00 p.m. Teja Gerkin
Born in Germany in 1970, Teja Gerken began his journey on the guitar at the age of six and became a serious student of the instrument after his family moved to California in the mid '80s. An active participant in the vibrant San Francisco Bay Area acoustic music scene, Teja is a regular performer at many of the region's venues. A firm believer in creating community, he hosts a monthly acoustic guitar showcase (currently at Fairfax's Sleeping Lady ) which features both established and emerging players. Teja also frequently introduces international talent to Bay Area audiences.

2:00 p.m. – 3:00 p.m. Boca Mundial
Led by charismatic vocalist Alexa Weber Morales, Boca Mundial is a "flamboyantly multilingual" (San Jose Mercury News) jazz band freely mixing infectious traditions including salsa, bolero, samba and funk. The dynamic salsa dancer and Grammy-winning singer/songwriter leads the vibrant Boca Mundial through creative sets of Spanish, French, Portuguese, English, and even Italian jazz. "With a voice sweet, pure and strong, Alexa Weber Morales is poised to ride the Bay Area Latin jazz scene to national recognition." (San Francisco Chronicle). Boca Mundial includes Ami Molinelli, percussion; Jonathan Alford, piano; Colin Douglas, drums; and Sam Bevan, bass.
3:00 p.m. – 4:00 p.m. Klipptones
From instrumental jazz to full on party mode, The Klipptones are the perfect soundscape. Their rep spans 40's Sinatra-style swing, blues, 50's/60's rock & roll, and pop classic twists ala Postmodern Jukebox (including a few mash-ups) that Dreamforce attendees will die for. They have  even opened for Big Bad Voodoo Daddy! They perform regularly around the Bay Area and our musicians are some of the finest, having played with the likes of James Moody, Wynton Marsalis, Ernie Watts, Mary Wilson, Ritchie Cole, Diane Witherspoon, Peter Erskine, Wycliffe Gordon and many more.
4:00 p.m. – 5:30 p.m. Chris Clouse Project
Chris Clouse is a man of many hats and a true musician at his core.  From his early beginnings of being a competition fiddle player to now, he has crossed genres, written and recorded numerous albums, shared stages with the likes of Johnny Cash, The Flaming Lips, The Beach Boys, Gorgon City, Miike Snow, The War On Drugs and Kaskade.  Writing songs has always been at the heart of Chris's music but he was driven to provide something new to the people that came to see him.  Using technologies such as Ableton Live he was able to bring his original music to an intensity unique to electronic music.  He honed this sound with a 2 year running show at the Hard Rock Hotel in Las Vegas.
6:00 p.m. – 7:00 p.m. Apex & The Limits
Apex & the Limits is a band made up of current Salesforce MVPs. They produce parody songs and original compositions to give back the community they hold so dear. Want to know more about the band? Check out their blog post: Why A Band?

7:00 p.m. – 8:00 p.m. Embarassonics
The Amazing Embarrassonic Human Karaoke Machine is an interactive rockstar fantasy experience that allows you to front a real, live, 3 piece rock band. They've got guitars, bass, drums, keyboards, a stage and a repertoire of over 500 songs, but without you they are nothing but a crappy jazz/fusion instrumental headache. So read over the song list, pick a song you're familiar with and sign up to sing with the Amazing Embarrassonic!

Wednesday, October 5:
10:30 a.m. – 11:30 am. LT Smooth
11:30 a.m. – 12:30 p.m. Hot Buttered Rum
Hot Buttered Rum lives for a good time, and a mindful recklessness settles in whenever these five guys step on stage. No matter where they are, the group's onstage chemistry fuels the love-fest that is a live Butter show. Rooted in the trajectory of west coast bluegrass, Hot Buttered Rum plays what has been described as California's own acoustic music.
3:00 p.m. – 4:30 p.m. Forever (Michael Jackson Tribute Band)
Since 2009, Foreverland has been mesmerizing audiences around the country with their larger-than-life tribute to the one and only Michael Jackson. Featuring four dynamic vocalists, a powerhouse rhythm section, and the hardest working horn section in the biz, Foreverland recreates hits from the Jackson 5 era through the end of Michael's incredible career in a way that honors the King of Pop's musical genius and legendary showmanship like no other tribute band has ever done.
4:30 p.m. – 5:30 p.m. Chum
5:30 p.m. – 6:00 p.m. DJ Mancub
Chip Corwin, (a.k.a.) DJ Mancub, is one of San Francisco's premiere DJs. Mancub delivers a one-two punch, using authentic boxing gloves during his performance. He is the only DJ in San Francisco to use such a peculiar technique. Expect a T.K.O.! Chip represents the world famous Space Cowboys and Sleevin Records (www.sleevin.com) in San Francisco and for the last 4 years he as been one of the top vote-getters in Nitevibe's San Francisco DJ Dream Team poll (along with Mark Farina, Miguel Miggs, Bassnectar, Fred Everything, Smoove, M3 and David Harness).
Thursday, October 6:
11:00 a.m. – 12:00 p.m. Kendra McKinley
Kendra McKinley perceives a song like a painter views a blank canvas: an opportunity to expand an audience's mind, to wash their thoughts in brilliant hues of blue and violet, scarlet reds and effusive orange. Inspired by the past but not chained to it, McKinley's music spans the diverse spectrum of pop music. She echoes the intricate vocal arrangements crafted by Brian Wilson, fractures the narrow definitions of a genre like St. Vincent, and recognizes storytelling as the key aspect of a great tune the way the best singer-songwriters have for generations.

12:00 p.m. – 1:00 p.m. LT Smooth

1:00 p.m. – 2:00 p.m. Brass Magic
Instead of the traditional New Orleans Second Line brass band approach that their instrumentation would suggest, Brass Magic merges hip-hop, rock, R&B, soul, world music, and electronic dance music into a contemporary sound that brings audiences to their feet. Started in 2010 by trombonist Danny Lubin-Laden, Brass Magic originally existed as a casual assemblage of musician friends to play Lubin-Laden's compositions at house parties in the Bay Area. With a move to Brooklyn and recruitment of classmates from The New School to perform around New York City, the band developed solid performance experience and a fiery book of originals. Moving back to the West Coast and settling in Oakland in 2013, Brass Magic have developed a hard-won following for their raucous live shows around the Bay Area at night clubs and impromptu busking gigs on city streets.

3:00 p.m. – 4:00 p.m.The Ceremonies
The Ceremonies is an American rock band from Los Angeles, California. The Ceremonies' sound has been described as '80s New Wave nostalgia meets cutting-edge alternative rock. The three members, brothers Matthew Cook (age 23), Mark Cook (age 21), and Michael Cook (age 21), formed the band in 2010. They did not, however, release any music until late 2012.[1] They are now managed by Troy Carter (Lady Gaga, John Legend). The band is the first artist signed to the joint label between Atom Factory Entertainment and Capitol Records. [2]

4:00 p.m. – 5:00 p.m. The Shelters
For a moment there, Los Angeles based band The Shelters seemed like 21st century rock 'n roll's best kept secret. But word got out. It started in the clubs. And everyone who saw them thought maybe he or she had gotten there first. By now, however, it's clear that they'll all have to share. The Shelters have their self-titled debut LP is now available on Warner Bros. Records. Just like the EP they released last October as an album preview, their full-length is a blast of Southern Californian rock and roll from a four-piece like they used to make them, when the factory was still up and running. Co-produced by Tom Petty, this album comes at you from behind, nothing you were expecting.

5:00 p.m. – 6:00 p.m. Gavin Turek
It's impossible not to become infatuated with disco-pop princess Gavin Turek. The LA Native is always clad in a hand-made 70s fringe dress (she has one in every color) and armed with the best dance moves you've ever seen. It's easy to draw comparisons anywhere from Tina Turner to Beyoncé but really, Gavin is her own force to be reckoned with. Even the most apathetic concert goer leaves her shows revitalized and obsessed. Mayer Hawthorne was the first to take notice, not only inviting Gavin to open his sold out tours early on but also bringing her in as a guest vocalist for his latest  project Tuxedo. (You may recognize her as the golden disco goddess gracing the stage with them this past year, everywhere from the legendary Hollywood Bowl to Japan).
Friday, October 7:
10:00 a.m. – 11:30 a.m.: Garrin Benfield
Benfield's shows center on his quirky pop melodies, but are stretched by Garrin into improvisational explorations into new territory each night. Familiar songs are often twisted and contorted into gorgeous new creations that leave audiences breathless. At once organic and eclectic, Garrin's shows are an experience as much as they are a musical concert! Utilizing electronic effects and a loop station, audiences find themselves grooving to atmospheric rhythms and settling back into Benfield's soothing vocal style.
12:00 p.m. – 1:00 p.m. LT Smooth
1:00 p.m. – 2:00 p.m. Garrin Benfield

2:00 p.m. – 3:00 p.m. DJ Nima Mostafavi

Let the good times roll on the Dreampark during Dreamforce!
Note: Free Expo+ Pass holders have access to some of these performances. Get details on Free Expo+ Pass accessibility here.