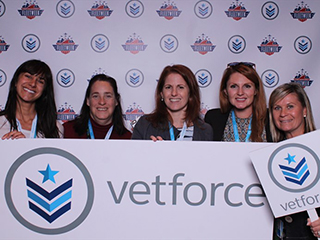 Over the next five years more than a million service members will leave active duty service and Salesforce wants these men and women to gain the skills necessary to launch cloud computing careers. So Salesforce created Vetforce, our military job training program, to help our customers and partners access military talent. Vetforce is a growing community of learners becoming trained and certified in Salesforce technology.
Dreamforce '16 was an opportunity to bring this community to life. Here are the top six highlights:
#1 Veterans Recognized in #CEO Keynote
On Wednesday, Marine TJ McElroy, the first totally blind #veteran to become Salesforce certified, was personally recognized by Salesforce chairman and CEO Marc Benioff for his incredible work with Veterans Workshop. Thank you to all of the service members who joined us at Dreamforce, and thank you TJ for inspiring the community with your story and work!
#2 San Francisco Fleet Week Partnership
Fleet Week and Dreamforce happened the same week and we found lots of great ways to collaborate. Conference attendees experienced air shows, ship tours, humanitarian activities, band concerts and a job fair as well as several other notable events, including:
A Navy band performance on the Dreampark
A "Welcome a Sailor" volunteer activity in which conference attendees wrote letters that were delivered to the USS San Diego, which housed sailors and marines in town for Fleet Week
A breakout session featuring a fireside chat with the Assistant Secretary of the Navy (Manpower and Reserves) The Honorable Franklin R. Parker and Salesforce Secretary of Defense Fellow Lt. Colonel Lara Morrison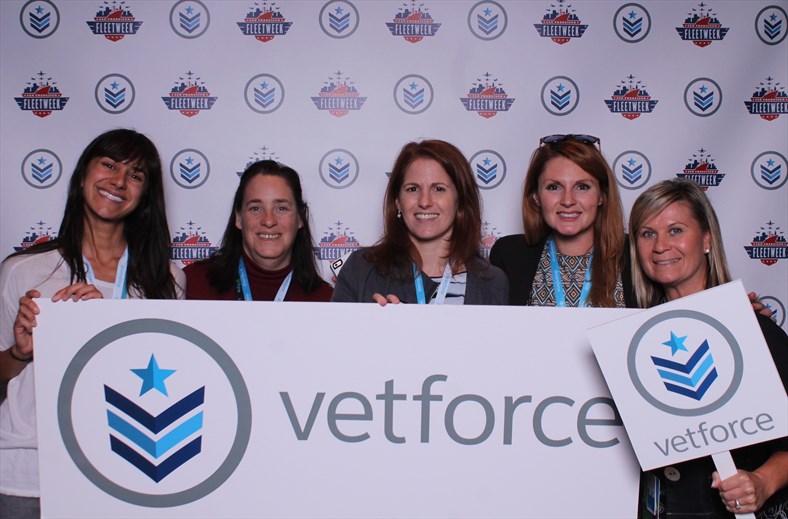 #3 The Third Annual Dreamlift
On Tuesday afternoon, 40 executives participated in the Dreamlift, a CH-47 military helicopter experience, which included a roundtrip flight from Treasure Island to Moffett Air Field. The California National Guard Work for Warriors Program provided this opportunity so that top companies could get a first-hand understanding of the technical capabilities of our citizen soldiers and join Salesforce in training and hiring these men and women. A huge thanks to Dave Gowel and the Rallypoint team for once again supporting this event.
#4 Four Salesforce Curated Sessions Featuring Inspiring Veterans
Lone Survivor. Service and Sacrifice: A Veterans Reflection with Marcus Luttrell
An inspiring and funny motivational speech to a packed house about Marcus' experience as a Navy Seal.
"How does @salesforce make #DF16 the best Dreamforce yet? By having @MarcusLuttrell speak." -@Josherpack
Connecting Veteran Talent to Employers
Great lessons from Rally Point, Breakline, and California National Guard's Work for Warrior program about military talent.
"Former @MIT @ArmyROTC Instructor & @RallyPoint CEO @DavidGowel leading Veteran's to success w @VetForce… #RLTW!" -@DBohrisch
Fleet Week: Talent Mgmt and Diversity Lessons from the Department of the Navy
Insight into how the Navy has created a diverse and inclusive workforce for both service members and civilian employees.
"A diverse force is a stronger force" – Asst Sec of the Navy Franklin R. Parker at df16 to talk about diversity in the military.
-@Vetforce
Veteran Leaders Share Insights on Post-Military Careers and Hiring
Don Faul, Randy Wootton, and Jason Noma shared their experiences thriving in tech while also supporting other veterans.
"Ready for Day 3 of DF16? @randy_wootton will be speaking on: VetForce: Veteran Leaders Share Insights on Post-Military Careers and Hiring" -@Rocketfuelinc

#5 Vetforce Happy Hour
One of the best networking events at Dreamforce happened Thursday night when Vetforce members finally all convened. Attendees included Salesforce Chief Equality Officer Tony Prophet as well as a number of nonprofits like Vets In Tech, Bunker Labs, Vets Tech Trek, Veterans 2 Work and IAVA, which also brought their board member Craig Newmark. Savvy vets met hiring managers and many great connections happened to help military members advance their careers.
#6 Attendance by Vetforce Members
This year 50 local members were given full conference passes, allowing them to fully take advantage of all Dreamforce had to offer. Veterans went to sessions, staffed the Vetforce booth and significantly increased their knowledge and network in just three days.
ABOUT VETFORCE
Here's how the program works:
Military service members, veterans, and spouses sign up at veterans.force.com and their status is verified.
Vetforce members can pick from four learning journeys (Administrator, Developer, Analyst or Sales)
Learners complete mandatory Trailhead trails to gain fundamental knowledge
After required trails are completed, members are then given an open seat in a classroom, virtual or in-person, to take the Salesforce University class that corresponds to their learning journey
After successful class completion, Vetforce members are given one voucher for their certification exam
Once certified, the Vetforce team then helps connects members to employers in the Salesforce ecosystem
Follow us on Twitter @Vetforce and join us at veterans.force.com to learn more. If you're interested in hiring Salesforce certified military talent please send information about your open Admin, Developer or Analyst positions to vetforce@salesforce. Thanks to the entire community that contributed to DF16 – we look forward to continuing to work with you!