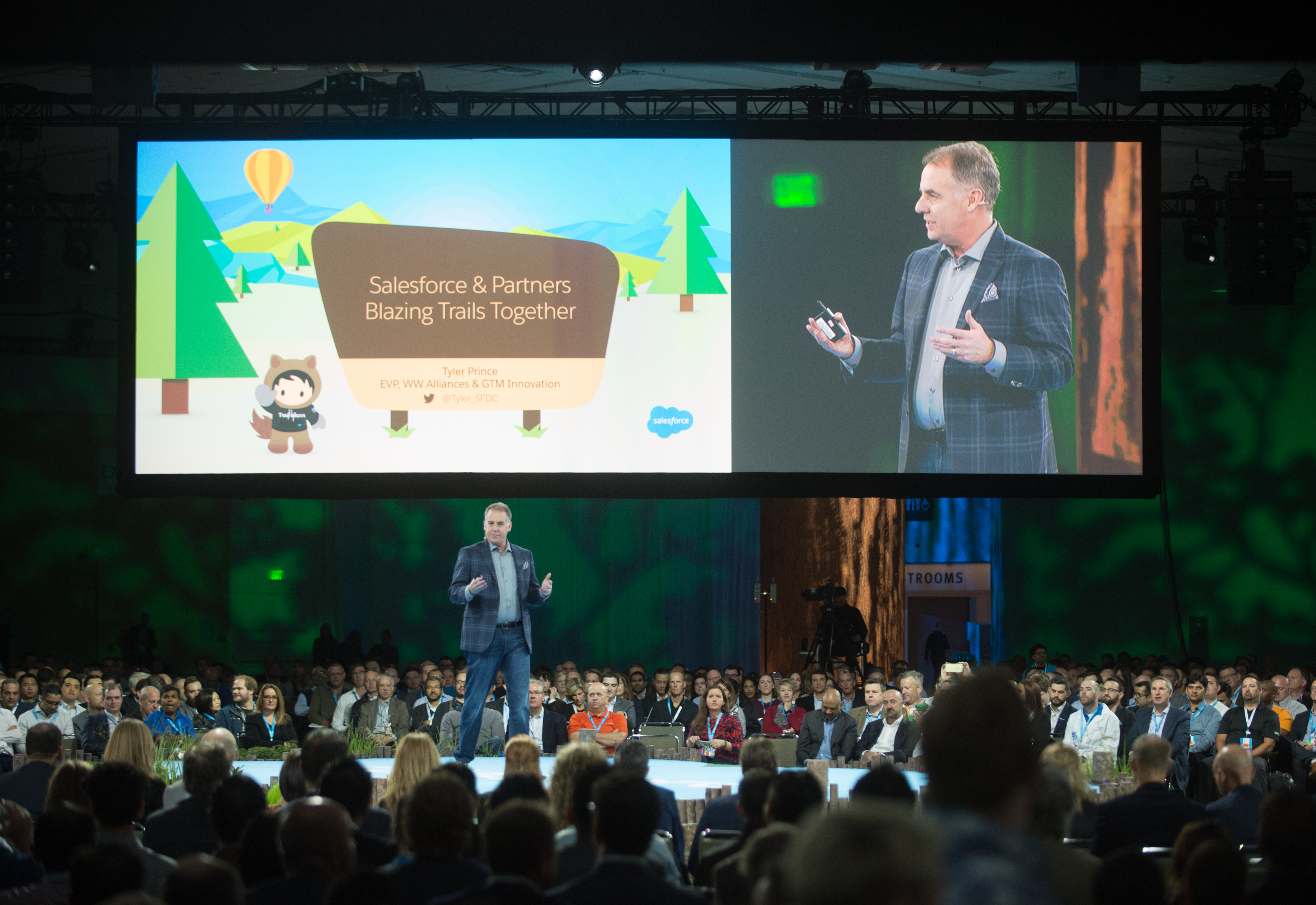 Welcome to Dreamforce, the largest gathering of customer trailblazers in the world! We hope your first day was productive and that you learned the lay of the land.
Here's a list of five amazing moments from Day 1 of Dreamforce '16. Tomorrow we'll do it all over again — and we'll hear from Marc Benioff in his always-anticipated keynote (don't miss it at 1:00 p.m.), plus celebrate together with U2 at an exclusive concert.
Not with us in person? Join Dreamforce via video on #Salesforce Live.
1. The Partner Keynote Showed Us What's Possible in the Salesforce Ecosystem.
The Salesforce Partner ecosystem is incredible. As the world's largest and most connected Cloud ecosystem, Salesforce Partners are crucial to driving customer transformation and innovation. In this keynote, Tyler Prince, EVP, WW Alliances & GTM Innovation, explained how we continue blazing trails with partner success, market opportunities, and other initiatives that empower Salesforce and partners.
The awesomeness of #DF16, focusing today on the partner program pic.twitter.com/3iyz6sREqu

— Sam Aparicio (@samaparicio) October 4, 2016
. @ntaychak sharing strategies to build world class Salesforce partner experience @Dreamforce DF16 pic.twitter.com/f17zYubVXY

— Madan Ramachandran (@madanchandran) October 4, 2016
2. The Cloud Expo Opened and Impressed.
Sure, the Cloud Expo boasts a lot of swag and bright shiny objects. But it also demonstrates first-hand how thousands of solutions work with Salesforce to help our customers succeed. Today we opened the Cloud Expo, and many Dreamforce attendees started making their way through the world's largest cloud ecosystem to discover the future of technology. It's open all week, so stop on by!
So far so good here at DF16. Attended the 1st things 1st session, completed the Trailhead Quest and now about to enter the Cloud Expo. pic.twitter.com/Loj0V55UWl

— Chris McDonald (@maccsm) October 4, 2016
Cloud expo… The calm before the storm. DF16 pic.twitter.com/J3HGtHTNXH

— James Goerke (@JamesGoerke) October 4, 2016
3. The Dreampitch Was Salesforce's First-Ever Startup Pitch Competition.
#Dreampitch, Salesforce's first startup pitch competition, was led by judges Mark Cuban and Chris Sacca (from TV's Shark Tank) and will.i.am. Three startups built on Salesforce's App Cloud competed for $150K from Salesforce Ventures and a spot in the Salesforce incubator. They also had the chance to show off their startup from a big Dreamforce stage. The winner was Claire, a chatbot for testing consumer products. Congrats to all the participants!
dreampitch at Df16. Cool to see @mcuban @shahrzadrafati @iamwill @sacca live in action! pic.twitter.com/cXh0ejLmgm

— Joel Lippman (@readmylipp) October 4, 2016
Dreampitch was one of the coolest things I've seen at DF16, but we're only 6 hours in! @Dreamforce is an amazing event! pic.twitter.com/55pAGRGa9U

— Eric Agnew (@EricAgnew) October 4, 2016
4. The Quip Keynote Supercharged Our Productivity.
Quip is now a Salesforce company — and your productivity will thank you for it. Quip's Living Documents change the way people work by seamlessly combining communication and content in a single experience, extending the power of the Customer Success Platform. Bret Taylor, Quip Founder and CEO, explained how Quip enables the next generation of team productivity in this info-packed keynote, perfect for anyone who wants to be more productive (and isn't that all of us?).
Quip CEO Bret Taylor's keynote at DF16 is today at 4pm — don't miss it! https://t.co/ZvZSduWZq4 pic.twitter.com/XK4sl8gMTv

— Quip (@quip) October 4, 2016
5. Tony Robbins Ignited the Power to Break Through.
What's the single characteristic that separates those who succeed from those who don't? Tony Robbins convinced us it's hunger. Dreamforce attendees got out of their seats and felt the high energy from Tony's dynamic talk. According to Tony, success is all about unlocking and unleashing the forces already inside us, which can help us break through limits and create the life we really want. So the next time you're worried about achieving your goals, remember that Tony said the power is already yours.
@Dreamforce DF16 Super excited about @TonyRobbins keynote today…

— Raj Sriram (@RajSriram2) October 4, 2016