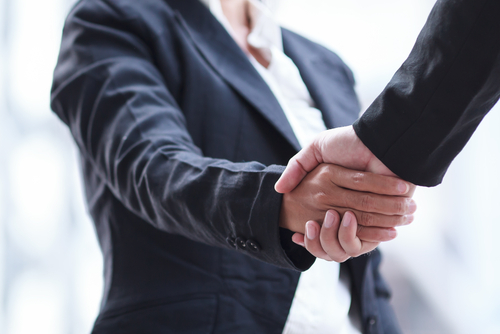 "Give me six hours to chop down a tree and I will spend the first four sharpening the axe." – Abraham Lincoln
You want to accelerate the sales cycle—so why not put some effort into sharpening your 'sales axe,' enabling your teams to close deals even faster?
The first step in the arduous and time consuming process of closing a sale is to create an opportunity for your lead. Configure, Price, Quote might be the very first step to a deal but it is often the most overlooked from the perspective of driving process efficiencies. You already measure sales cycle times and deal velocity, but did you know that reps on average are spending 64% of their time on non-selling tasks such as building quotes, identifying pricing, and securing approvals? (State of Sales Report)
No doubt that the first step to a sharp 'sales axe' is a solid CPQ model.
We will help you identify where your team stands today and what steps you can take to move to the next level.
But first, what are the key attributes of a solid CPQ Model?
CPQ automation does not just impact your sales organization. According to PwC, Finance, Operations and even Customer Service are impacted in negative ways by a poor CPQ process.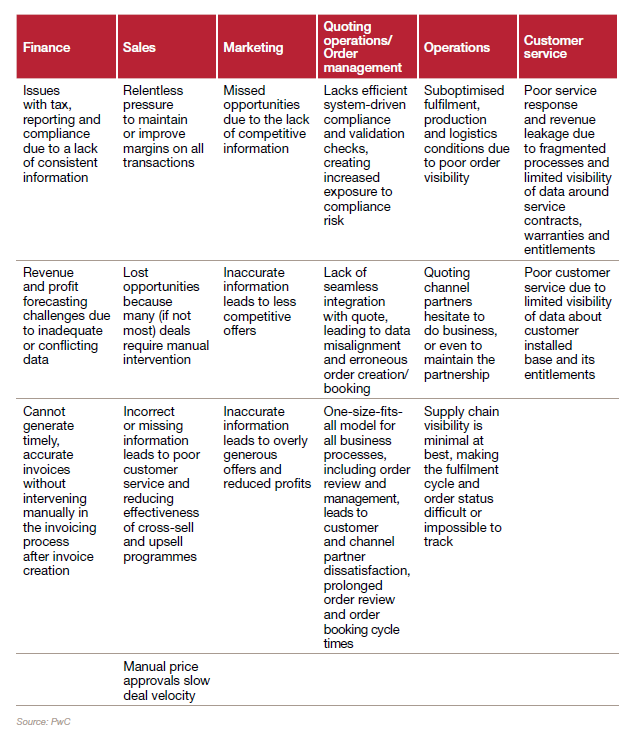 Source: PWC
How can you prevent these problems for your teams? What key attributes should you look for in a CPQ model?
Here are some of the CPQ processes you can automate and that will indicate the CPQ maturity of your organization:
Product configuration

Guided selling

Price catalogs

Discounting rules enforcement

Contract, proposal, and order approvals

Backend integration with ERP systems to manage inventory, fulfil orders or update financial ledgers

Channel Partner management tools

Renewal cycles
How mature is your current CPQ model?
There are three phases of maturity that will help you determine where your organization falls on the spectrum today and how you can build on your current processes.
Phase 1: Archaic
In this phase, sales reps are working out of excel sheets or worse yet, Post-it notes. Customers are receiving quotes in various forms ranging from emails to word docs. As your business grows and expands, more customer quote requests pour in, but with manual processes you are prone to risk of errors & uncontrolled pricing. Not only does it create a poor brand experience, but you can not report on key metrics. Scaling your business to new heights will be an uphill battle with this model.
Phase 2: Automated
This second phase of CPQ maturity involves some level of investment in tools and systems to help your growing sales teams manage their opportunities, quotes, and orders. As a Salesforce customer, you might even consider using standard quotes objects right out of the box.
For companies with a simple set of offerings and straightforward pricing, Salesforce Quotes, a built-in component of Salesforce Sales Cloud, offers the basics to streamline quoting for many small businesses. Quotes offers basic quoting and a simple product catalog for easy selection of items. Quotes also uses the built-in Salesforce price book, which allows for basic discounting, and generates a formal PDF quote for presentation directly to your customers.
Salesforce Quotes is a great way for small businesses and those with simple pricing rules and smaller product catalogs to manage their quoting processes with relative ease and simplicity.
Phase 3: Advanced
As your company grows and your product line expands and becomes more complex, so do your quoting requirements. Pricing and discounting rules require more robust controls and greater flexibility, product bundling and packaging complexities arise, compliance issues appear, and deeper process insights are needed. You soon realize the need for a more advanced quoting tool which can handle the needs of your unique business.
In this final phase of CPQ maturity your tool helps you manage and automate all of the following key functionalities:
Guided selling: Sales reps no longer have to look up multiple systems and various spreadsheets to understand the right configuration to offer their customers.
Renewals: For a subscription revenue based model, the system realizes the time frame from opportunity start date, calculates the renewal date and automatically generates a renewal opportunity—ensuring you don't lose out on an opportunity to generate revenue. To further simplify the customer lifecycle, your tool should give you the flexibility to price for different subscription terms, co-term add-on orders, and keep track of renewals.
Pricing and discounting: A good CPQ tool will allow you the flexibility to enforce tiered discounts, volume discounts, and even mandate certain discount levels depending on the product or sales rep level.
Channel partners: Your CPQ tool should be able to manage multiple price books based on your agreements with different partners, so each partner automatically gets the pricing they expect. Integrating your CPQ tool with a partner portal will also allow your resellers and distributors to easily create quotes directly in your CRM system, giving you real time visibility into channel revenue.
System integrations:  A strong CPQ solution will also have a robust technical architecture so you can easily integrate with your ERP systems to better manage inventory or update your financial system of record. Look for tools that provide a comprehensive set of APIs and even pre-built integrations with major ERP systems.
Empower your sales team with a sharp axe! Check out how Salesforce CPQ gives your company the tools you need to take control of the sales process, from quote to cash.