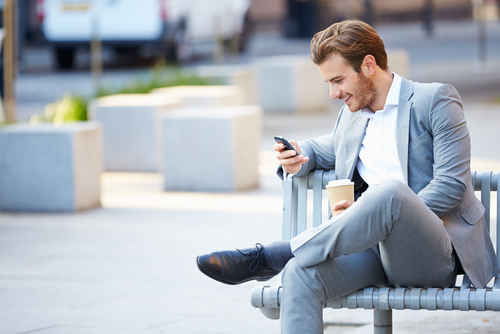 Building a successful RIA business requires building strong relationships with clients and — equally important — with your technology partners.
All relationships require taking a step outside of your comfort zone today in order to be a part of something successful tomorrow. "Swiping right" — to use today's dating app terminology — on a new relationship with the right technology partner may seem risky today but could lead your business to a profitable 2017.  
Being a smaller RIA is no reason to think small.
Your RIA firm may be small now, but you are surely planning for growth or at the very least, thinking of ways to streamline your business. This is why it is crucial to pick a technology partner that will help you strengthen your client relationships and be there for you as your firm continues to grow. Just as the 'big boys' at wirehouses commit to long-term relationships with their technology providers, so should small RIA firms looking to take their client engagements to the next level.
The process is not unlike finding a soulmate to grow with you. To kick off 2017, here is your checklist for finding the right CRM partner to develop stronger client relationships in the new year:
A Relationship Built on Trust: Trust starts with transparency — this is true in the dating world as well as in financial services.
Niche players are less likely to provide 24/7 service and even more likely to not tell you they don't. The talent bench at a smaller firm may also not be as deep, which means if your favorite rep leaves, the quality of your service also walks out the door. A clear understanding of service quality is essential in order to establish a long-term relationship built on trust.
Don't be distracted by a few keywords in a company pitchbook. As with serious dating, you are looking for a company that complements all facets of your life — or business. You need a tech partner that has the latest security capabilities trusted by the world's largest enterprise financial services firms including two-factor authentication, login IP ranges, custom domains, session timeouts, and strong password policies for length, complexity, and expiration. When choosing a trustful partner, be sure to consider security and longevity.
Keeping the Spark: Even long term relationships need the occasional spark, which is why your technology partner should always be innovating and anticipating the next move in the industry.
A niche technology player is not unlike a romantic fling. By fulfilling only today's needs, a niche player is less equipped to help you grow.
By definition, niche players have a smaller client base, which makes them less like to see the broader picture in what's happening in the RIA space. While they are focusing on their day to day operations, your business is missing out on new opportunities for growth. By the time a niche player gets on board with the latest industry developments, they likely have cost your business time and money in lengthy tech upgrades.
The Full Package: We've all had relationships that only made sense for a certain time in our life. While that may be fine (and fun!) socially, your business plan needs to be thought of more as a marriage than a fling.
When you "swipe right" keep in mind that you are looking for the full package and that means finding a partner that will be with you for the long haul. Will this technology partner be able to stay by your side during the up's and down's as your firm grows over time?
Small RIA firms may be tempted to rely on smaller niche technology vendors or proprietary solutions to quickly fulfill their client-serving needs. Unfortunately many will find that as their client base expands, these solutions aren't as flexible as they may have anticipated, making it a challenge to deliver personalized advice at scale. Smart firms will choose a tech solution that not only drives efficient processes in the short term but can also adapt to the needs of an evolving client base well into the future.  
The goal is find technology solutions that will grow with your firm without slowing down progress. Having the right solution can help with day to day needs as well as unique milestones such as mergers, acquisitions and onboarding of new advisors.
Social Proof: What's a new relationship without feedback from friends and family? The same thing goes for your business. You want a technology partner whose customers vigorously support it.
It is important to match what tech partners say about themselves versus what their clients say about them. RIAs that are pleased with their technology service provider generally report an increase in revenue and a decrease in IT costs, due to seamless new product deployments. Most importantly, RIAs with a the right long-term solution notice increased satisfaction from their clients, due in part to the ease of engagement and communication. Look for a technology partner that can easily demonstrate happy customers and has the social proof you need to take the next step.
Put a Ring on It: You will know when you've found the right technology partner for your RIA. You'll trust that the solution is equipped with the tools you need to protect and strengthen your business. Losing the spark in the relationship won't be an issue because the right solution is one that is always innovating. You'll be confident that your technology partner will advance your growth instead of hindering it. And finally, you'll have the strong social proof you need backed up by customer success stories and referrals.
Make 2017 the year your RIA stops "dating" and instead, take the steps to lay the groundwork for a lasting technology relationship.
Discover how you can turn financial goals into lifelong client relationships with Salesforce Financial Services Cloud.
About the Author
Eran Agrios is the practice lead for Wealth Management at Salesforce. Eran has over 10 years of experience in customer relationship management technology. For the last 10 years she has focused specifically on Financial Services customers in global markets on how to transform their businesses and evolve their customer relationships.
Eran brings a unique perspective on the trends and transformation happening in Financial Services and Wealth Management. Most recently, her focus is on how technology is transforming client expectations and why Wealth Managers need to reimagine the client-advisor experience to remain relevant in the space.