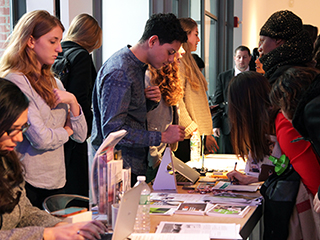 Earlier this month we partnered with some of our amazing partners including Amazon Business, WeWork, Yelp, and Zenefits to present a one-day growth extravaganza in New York City. It was a day of hands-on learning and expert advice for launching and running your business, as well as making closer connections with customers. We even heard from a special guest, Super Bowl champion and media personality Michael Strahan, who delivered an inspiring talk on business and entrepreneurship! Missed out? Don't worry. Read on for three takeaway tips to help your business in the New Year.
Tip #1: The government can help!
Did you know the U.S. #Small Business Administration is the largest VC in the world? Beth Goldberg, the SBA's NY District Director, gave attendees an overview of the organization's cutting-edge programs to help small and mid-sized businesses go "from idea to IPO." The SBA can help your small business in three ways: capital, counseling, and contracting (the three C's). In the past year, the agency approved 67,914 SBA-guaranteed loans totaling $27.8 billion and helped more capital reach the people who need it most, including women, veterans, Hispanics, African-Americans, Native-Americans, Asian Americans, and more. Check the SBA website to learn more about their services.
Tip #2: Tapping into your community has huge benefits.
Joining local chambers of commerce can be incredibly helpful to business success, especially if you take a leadership position at one of these organizations. Plus, you meet amazing people! Another great way to take advantage of community is through co-working spaces like Wework, where you can meet and share ideas with other small businesses. Crowd-funding services like Indiegogo take community to a whole new level and can help you create a virtual community of like-minded people that will help power your business.
Tip #3: Believe in yourself.
We were joined at the Basecamp by football Hall of Famer, broadcaster and entrepreneur, Michael Strahan. He's experienced incredible success in his life and shared several tips. The most important? "Believe in yourself." According to Strahan, many people are too good at doubting themselves, but can do amazing things — and after making the transition from football to television to launching a clothing line with JC Penney, this pro definitely knows what he's talking about. His advice: "Put some lines in the water, and you just might catch whatever you're fishing for." We love it!
Want to find out more about how you can grow your small business faster than ever? Read our new 2016 Connected Small Business Report and learn about the opportunities for you to embrace technology to work smarter, build closer connections with customers and outperform the competition. Download the report now.
Salesforce can help you find customers, win their businesses, and keep them happy so you can grow your business faster than ever. Learn more about our small business solutions or join the conversation with #SalesforceGROW.