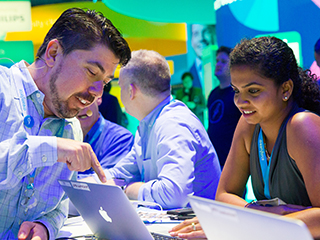 Counting down the days until October to experience the magic and excitement of Dreamforce? So are we! The good news is that you can get started with Dreamforce right now in the Success Community.
A few years ago, the Dreamforce App moved to the Success Community, making it possible for Dreamforce to live on year-round. You don't have to get everything done in only four days. The same experts that you meet at Dreamforce are active members in the community. You can network and make connections beforehand, meet them in person on site, and continue those relationships after Dreamforce.
The Community is the best resource to prepare you for Dreamforce. Determine what you're looking to get out of Dreamforce and make a game plan. Join some of the Dreamforce groups in the Community to learn about sessions relevant to you, hear what to expect on site, and get all of your burning Dreamforce questions answered.
Hear from Erica Kuhl, VP of Community, and Amanda Garcia, Events Telesales and Sales Enablement Manager, as they give you top tips on how to utilize the Salesforce Success Community, straight from the Road to Dreamforce:
Here are our top five tips to for making the most of the community:
1. Create or update your profile.
Help Community members get to know you better. Log in to success.salesforce.com and take five minutes to complete your Community profile.  Upload a picture, write a description, and share the  industry, location, and products you use. You can even link to your social profiles on Linkedin, Twitter, and Facebook.

2. Join relevant groups.
With hundreds of groups to choose from, there really is something for everyone. The Dreamforce groups allow you to make connections within the larger community, giving you the chance to meet and collaborate with other attendees with similar interests. You'll find  affinity groups like Dreamforce Health & Weightloss Challenge, Admins with Disabilities, Dreamforce Newbie "Reunion" Breakfast, and more — all run by a fellow community member. There are 30+ Salesforce-led groups, by segment, role, and industry, to give you a sense of what to expect at Dreamforce. If you've never been to Dreamforce, or you're traveling solo, be sure to check out New to Dreamforce and Flyin' Solo.

3. Post and share valuable content and information.
Posting valuable content is a great way to connect with other attendees. A truly collaborative community is one where members drive the content and determine what's most valuable. Have a great resource that will benefit other members? Post a link. Want to get feedback about a particular topic? Create a poll. Want to share all of your Dreamforce tips? Share away!
4. Build and grow your network.
The Community is filled with knowledgeable people that you need to know. Start building your network and then connect with people on site at Dreamforce. Find topics and conversations that interest you, then meet and follow members to expand your network. Make lunch plans or e coffee outings with people you meet — Dreamforce is the perfect place to make that in-person connection.
5. Ask and answer questions.
Do you have questions about Dreamforce? Ask them in the Dreamforce Success Community! Learn from other attendees and share your Dreamforce tips with newbies.
Even if you're not going to Dreamforce, or have never been, you can still experience the amazingness of it in the Success Community. Post your top tips with #SuccessTips on the Salesforce Success Community!
—
Still not registered for Dreamforce? Sign up today!