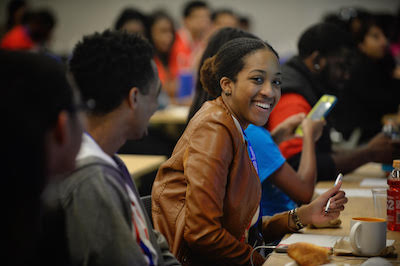 At Salesforce, we believe diversity and inclusion at all levels is critical to our business. This is especially true within our Futureforce University Recruiting Program, where we are hiring the future leaders of our company.
On November 18, the Futureforce team partnered with the United Negro College Fund (UNCF) for the 2016 HBCU Innovation Summit, welcoming more than 50 computer science students from Historically Black Colleges and Universities to Salesforce. It was an opportunity to introduce students to our people, products and culture.
"We are delighted to partner with UNCF and welcome students from HBCUs to our campus as they begin to craft their STEM careers," said Chief Equality Officer Tony Prophet.  "At Salesforce, we have made equality a core value for the company. We are committed to working to close the diversity gap in the tech industry. This begins with education, talent development and recruiting."
Talent development was a focus of the day, with students receiving hands-on help from Associate Software Engineer Dorothy Yen. "When they walked us through a coding problem – never had I been helped with a technical question before, said Howard University Student Lawrence Williams. "To walk through a technical problem with an employee was awesome."
That was followed by a BOLDForce employee panel on "How to Prepare for a Tech Career" which got Morgan State University student Jasmine Edwards fired up about the opportunities at Salesforce. "I was excited to hear about Opportunity Open Market," she said. "You can rotate around and find out what you like, and I like that!"
The day concluded with a tour of Salesforce's Urban Campus with stops at Rincon Center, Salesforce West and Salesforce East, where students had a chance to stop for a photo opp of the new Salesforce Tower, currently under construction, which will be open by the time they graduate.
Learn more about Futureforce University Recruiting Program and opportunities for you to launch your career with our #SalesforceOhana at: salesforce.com/futureforce.