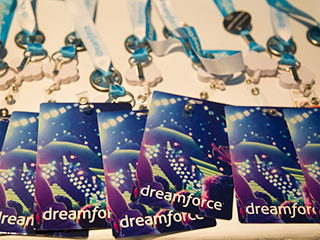 Dreamforce is four days of learning, inspiration, and fun. But the only way to make the most of those jam-packed four days is to be prepared. And with less than four months until the best four days of the year, there's no time like the present to start getting ready.
To help you prepare for the whirlwind of Dreamforce, we're bringing back our weekly live broadcast The Road to Dreamforce. Starting Tuesday, July 19,  we'll create a drumbeat to the big event in October on Dreamforce.com/video. From flashbacks to flash-forwards, The Road to Dreamforce brings all the learning, inspiration, and fun of the big event directly to you in preparation for Dreamforce.
The Road to Where?
On our fourth season of this live streaming web series, you'll see Dreamforce take shape as we discuss sessions, take you behind the scenes, give you up-to-date info, provide top tips for newcomers, and much more. Topics vary from Dreamforce operations and can't-miss sessions to newbie tips and the all-important question of what to bring to the conference. The Road to Dreamforce keeps you informed and inspired about all things Dreamforce.
How Do I Watch?
Catch up on past episodes and continue watching every Tuesday until the big event in October on Dreamforce.com/video. Can't get to your computer to watch live? Don't fret. All episodes will be archived for on-demand viewing within 48 hours of the stream, and they'll all be right on the "Video" tab of Dreamforce.com, YouTube, and on Facebook.
How Do I Join the Conversation?
Join the conversation, ask real-time questions, and get to know other viewers in the community using #RoadToDF16 or by @ mentioning the presenters , whose Twitter accounts are listed on the episode home page. Be sure to check out the Dreamforce Facebook and Twitter pages, along with the Dreamforce groups on the Success Community. We'll be listening there to the #DF16 & RoadToDF16 conversations and pulling questions and interesting quotes to include during upcoming episodes.
Subscribe now for reminders, highlights, and behind-the-scenes info. Oh, and did we mention that your subscription will enter you into a drawing to win free Dreamforce passes? (Yes, really!) Terms & Conditions apply.
The Road to Dreamforce Schedule:
Episode 1: 7/19/2016
Your Road to Dreamforce Starts Here
Find out all the must-attend sessions, keynotes, events, parties, and more that will make this your best Dreamforce yet, whether it's your first or your thirteenth.
Episode 2: 7/26/2016
Catch the Ohana Spirit: Why Community & Culture Matter
At Dreamforce, you'll witness Salesforce Ohana culture in action. Learn how focusing on key values like trust, equality, and giving back is making an impact.
Episode 3: 8/2/2016
Dreamforce for IT: Drive Your Business Faster
If you're interested in building apps that drive your business faster, Dreamforce is the place for you. Get the scoop on all the IT learning and networking opportunities available at Dreamforce.
Episode 4: 8/9/2016
Dreamforce for Sales: Win Every Deal
Dreamforce is a perfect place to network, learn, and of course, find out how to close more business. Our sales experts share how to make the most of Dreamforce so you don't miss a single opportunity.
Episode 5: 8/16/2016
Dreamforce for Service: Make Your Customers Love You
Service professionals, want to make your customers happier and more successful than ever before? Learn about all the products and opportunities available at Dreamforce that can help you do it.
Episode 6: 8/23/2016
Dreamforce for Marketing: Create Deeper Customer Connections
At Dreamforce, marketers can find out how to make every customer experience unforgettable. Our team of experts will get you Dreamforce-ready and share all the must-attend marketing sessions and events.
Episode 7: 8/30/2016
Dreamforce for Admin/Devs: Find Your Future
Find out what's being built at Dreamforce to help developers and admins progress their skills and careers.
Episode 8: 9/6/2016
Dreamforce for Every Industry
Salesforce is reimagining the way companies connect with customers in every industry. Find out how this laser-focused approach drives customer happiness like never before.
Episode 9: 9/13/2016
Giving Back at Dreamforce
Giving back is the heart and soul of Dreamforce. See how you can get involved and learn about the non-profits you can help at Dreamforce.
Episode 10: 9/20/2016
Navigating Dreamforce
Get the most out of your Dreamforce experience. Find out the best ways to get ready for the conference, learn the ins and outs of the campus, and get a hands-on tour of the Dreamforce app.
Episode 11: 9/27/2016
Connecting at Dreamforce
Find out how social media can make your Dreamforce experience even more amazing and keep you in the loop on everything from partner parties to awesome swag you can take home from San Francisco.