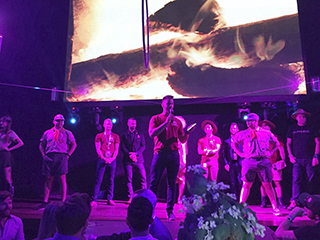 Dreamforce has come and gone once again. The Salesforce community welcomed over 171,000 customers, partners, and employees to our home in San Francisco who represented all kinds of backgrounds, geographies, cultures, and nearly every color of the proverbial rainbow.
As is customary, the week was packed with content focused on customers feeling empowered by the use of Salesforce to help them solve their business challenges by acting as trailblazers in their role, company, industry, and market — but this year, Dreamforce embodied the trailblazer theme more than ever before through its contributions on the journey toward #EqualityForAll.
Throughout the week, Dreamforce was buzzing on topics such as our newly-hired Chief Equality Officer Tony Prophet, sessions and events featured in our Equality Trail Map, and our Equality Summit on October 6. Of all the incredible connections, knowledge, experiences, and progress to come out of Dreamforce, this blog post exhibits the portion of Equality dedicated to the people and allies of diverse gender identities and sexual orientations. Below are the highlights which Outforce, our LGBTQ* Ohana Group (otherwise known as Employee Resource Group), hosted or sponsored during Dreamforce with special focus on Inclusion, Celebrating Diversity, Giving Back, and Moving Forward.
Inclusion
Gender-inclusive badges
As part of Salesforce's commitment to EqualityForAll, Dreamforce welcomed Trailblazers of all gender identities. For the first year, Salesforce included buttons during badge pick-up for every attendee which allowed them to display their pronouns. Instead of assuming how you prefer to be addressed, and to ease introductions, we offered gender pronoun stickers for each attendee badge. The stickers, featured on a button, were meant to be adhered to the Dreamforce lanyard with options of "he/him" and "she/her" for individuals who identify on the gender binary scale, "they/them" for individuals who may identify as genderfluid or non-binary, and an "ask me" option intended to invite a conversation about the gender spectrum and perhaps where or how the unique individual identifies which may not be included as one of the 3 options selected.
Gender inclusion has witnessed a recent surge in press and media coverage particularly in conjunction with controversial and discriminatory laws like the North Carolina "Bathroom Bill" and while much of the world is dramatically behind on gender inclusive practices and policies, Salesforce is proudly leading the way. Our buttons and stickers, along with gender neutral bathrooms also provided in designated areas at Dreamforce, are a small but significant step toward educating our community and bringing awareness to the powerful cause of gender inclusive practices which not only stimulate creativity but are good for all businesses.
Fun fact
Our brand new mascot, Astro, featured at Dreamforce is gender non-binary. The figure dressed in a raccoon costume and featured across the Dreamforce campus and website uses the "they/them/their" pronouns.
Celebrating Diversity
Outforce breakout sessions
As a part of the overall Equality initiative, more prominent than ever this year, Outforce sponsored a number of breakout sessions that identified and explained ways in which companies can advocate, navigate, and celebrate diversity. Based on survey feedback, these were some of the highest scoring sessions from all of Dreamforce and from the response, interest, and executive support, it's clear that these types of sessions will only continue in years to come. In our rapidly evolving world, diversity will continue to move us forward. Be sure to learn how and why from the recordings of our featured sessions below.
Giving Back
Camp Outfierce + The Trevor Project
Back for the 6th year, Outforce once again hosted our networking and community building fundraiser on Tuesday night. We welcomed all Ls, Gs, Bs, Ts, Qs, Allies, Scouts, Rangers, Bears, Otters, Kweens, Troop Leaders, and everyone else in our community to Camp Outfierce, the Official LGBTQAI Party at Dreamforce. This year we put a fabulous spin on the Trailhead theme and added a little GLAM. The glamping event featured specialty cocktails and hors d'oeuvres (helloooooo s'mores!), fiery music (although we skipped the campfire songs), unlimited dancing (jitterbug and foxtrot encouraged), and some pretty fierce raffle prizes (pre-paid glamping trips around the U.S. to name a few).
Beyond the party elements, the night was dedicated to celebrating community and diversity in a safe space along with raising funds for this year's selected non-profit beneficiary. In addition to bringing together people from all colors of the rainbow and all animals from the campground, Camp Outfierce raised nearly $35,000 for The Trevor Project, the leading national organization providing crisis intervention and suicide prevention services to lesbian, gay, bisexual, transgender, and questioning (LGBTQ) young people ages 13-24.
With over 800 attendees, this was our biggest year yet! Thank you to all who attended from the Redwood Forest to the Gulf stream waters. You strutted your camp gear like Phyllis Nefler, served face like Mt. Rushmore, got mossy like Kelis, and created a night that rocked more than Plymouth. It was an honor to partner with The Trevor Project and we look forward to hosting an equally incredible event next year.
Be sure to check out our highlight video reel to relive all fun and community.
Moving Forward
Where do we go from here?
Dreamforce cultivated a momentum destined to be sustained by our customers, partners, employees, and you. Our entire ecosystem came together and often positioned Equality throughout our conversations and our focus. Drawing from what we witnessed and learned, our charter is to commit ourselves as allies in the pursuit of social justice and broadspread Equality not only for our LGBTQ community members but also for those marginalized by racism, sexism, xenophobia, and other illnesses of modern day culture.
For those of us who are radiating with excitement and surging with hope about the possibilities for a future where Equality is a reality, I've collected a few calls to action and resources to help you move forward. (This is by no means a comprehensive list of all the ways to end discrimination. If you have additional ideas or thoughts to add, please add them in the comments below.)
Stay United

We rise together and we are stronger together. Equality will be achieved when discriminated individuals and communities recognize the unified strength in each other and align efforts on their journey. Seek out organizations which uplift communities, whether you identify as a member or an ally, and volunteer. As an example, GLAAD is a fantastic organization which focuses on LGBTQ acceptance and recently honored Salesforce CEO, Marc Benioff, for his tireless support of the LGBTQ community.

Live your Truth

"National Coming Out Day" just passed on October 11th and along with many other awareness days, weeks, and months nationally and globally, these periods represent a monumental turning point in the lives of LGBTQ members. Each day or period is intended to create an opportunity for affected individuals to uncover transparency between themselves and their world as well as spark conversations to educate and foster understanding for unaffected individuals. A San Francisco activist and openly gay man, Harvey Milk, famously said, "Hope will never be silent." These words live on today and signify the need to live your truth for yourself and your community. For those of you living in the proverbial "closet" or those who may or may not know someone living "in the closet," there are many resources to help you begin your journey. Events or holidays like "National Coming Out Day" serve as an opportunity for openness and conversation but they also signify a reminder that throughout the year we should approach others with compassion, regardless of one's exploration through understanding sexual orientation or gender identity.

Vote

It's no secret that U.S. elections are coming up. This is your opportunity to lift your voice, advocate for your values, and vote for candidates which represent diversity and present concrete plans to push the initiative forward. You can find out where your nearest polling location is here. Beyond current U.S. elections and across the globe, stay involved and remain informed on issues facing your local communities. If given the option to vote, utilize the opportunity to exercise your voice and uplift those who continue to face discrimination.

Donate

Your time and volunteer hours are critically important, but funds empower social justice non-profit organizations to reach broader audiences and serve their communities in a much greater capacity. Here is a list of U.S. LGBTQ rights organizations sponsored by Horizons Foundation to help you select your preferred recipient.

Join us next year!

On behalf of all of us at Salesforce, we were honored to host you at this year's Dreamforce. Thank you for your energy, thank you for listening, and thank you for your support. Our pursuit of EqualityForAll will only grow stronger and we hope that you will continue with us on this journey. We have much more in store for next year and we are eager to see you there! Be sure to sign up here to receive updates.
*LGBTQ is the commonly used acronym selected, in this case, to represent all members of a community who identify on the grid of sexual orientation, gender identity, or both.